SEDONA TRAVEL POSTERS
I am working on a marketing strategy for my art focusing on travel posters the take a fresh contemporary approach to classic destinations.
TRAVEL AMERICA'S CANYONLANDS
Travel America's Canyonlands is a concept I am working on for a western series, and is meant to give the images I am generating a stronger creative focus. Each design is created at full size 36x24 in vector form for scalability. I used my one photography as the basis for these images.
Prints Available on Fine Art America
http://fineartamerica.com/profiles/garth-glazier.html?tab=artworkgalleries&artworkgalleryid=704458&page=1
SEDONA and VERDE VALLEY POSTERS
A type experiment integrating the abstract shapes of letterforms with a representation of the landscape. When it comes to travel posters it seems like it has all been done, so I wanted try a different approach.
This view of Cathedral Rock from Red Rock Park in Sedona forms the design for my third poster in this series for CANYONLANDS. I am building these at full size with the idea of marketing them.
I turned on a western starring Jimmy Stewart while working on this poster. Within one minute I realized the entire film was shot in Sedona with a dramatic battle sequence right under Bell Rock. Bell Rock is one of the most unique formations in the Sedona area and sits at the north end of the village of Oak Creek. Its always tricky trying to find an original way to approach a very iconic subject. The rock is really this red in the Arizona sunlight.
Prints Available on Fine Art America
http://fineartamerica.com/featured/canyonlands-bell-rock-sedona-garth-glazier.html
The object was to create a type experiment at the center of the design. The letter forms are created to mimic the angularity of the area's rock formations. Tones and hues were explored in a way that hinted at the hot golden light of late afternoon and the way the haze gathers in between the rock formations.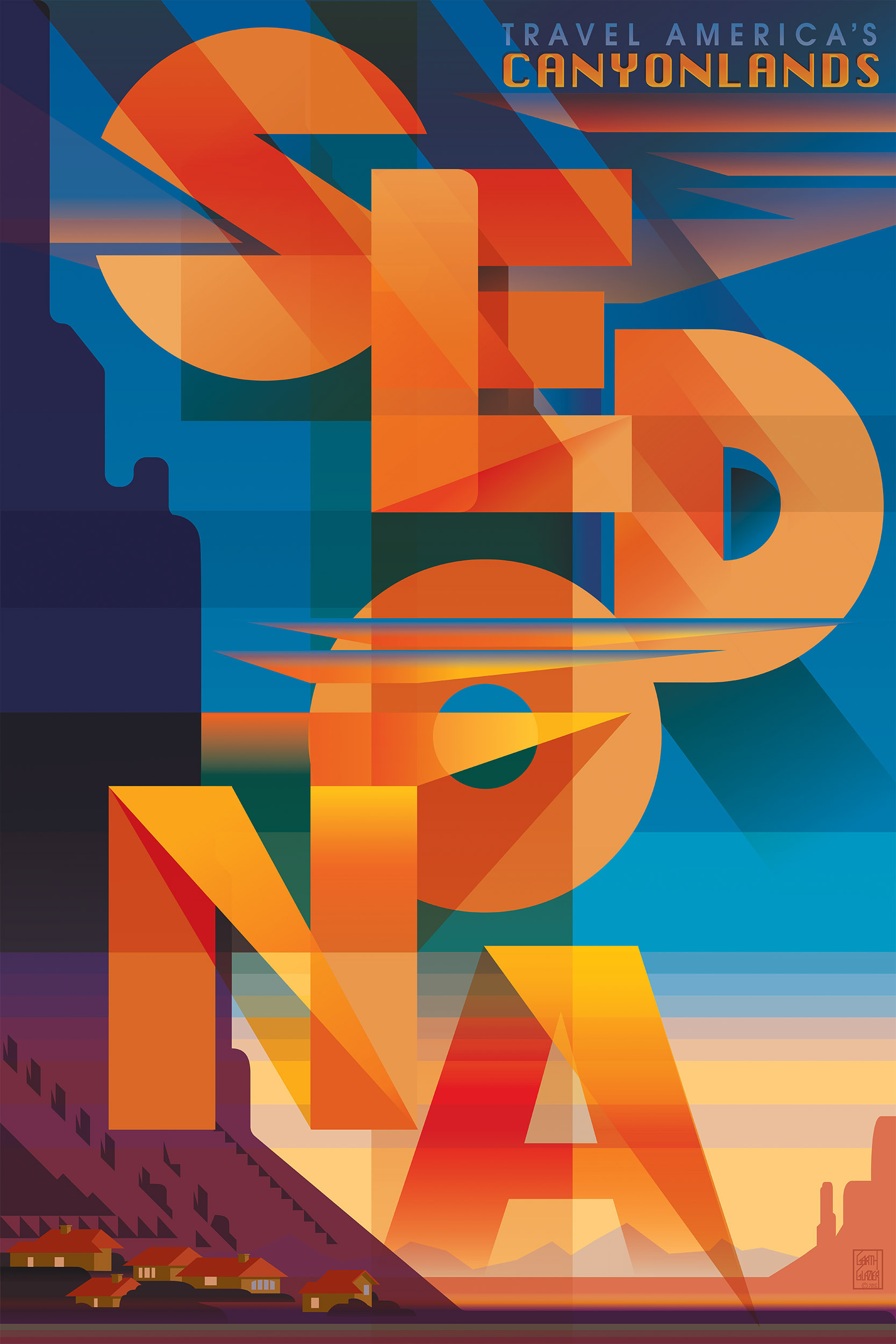 Verde Valley is called Arizona's other Grand Canyon. I thought it would be interesting to do something with the two "V" letters in the name. That "V" shape actually appears when you look out from the edge of the Mongollon Plateau.