Classic Detroit Vintage Car Paintings
These are digital automotive paintings produced as fine art.
The Great Detroit Illustration Tradition
Painting sheet metal has always fascinated me. I entered the Detroit Studio system vis McNamara Associates in 1981 at the end of the age of great car illustrators. I learned from established artists like Max Altekruse, Don Weiland, Tony Randazzo, Gary Richardson, Hank Kolodzie, and Walt Trusell. They were some of the luminaries of the Detroit art community at that time and I was able to study their paintings first hand. Although, I never became became a car illustrator in the full sense that they were, I was able to take what I learned from these top illustrators and develop a unique decorative illustration style of my own that served me well through the 1990s.
Today, I am channeling their spirit to fullfill a longtime ambition to paint cars with the same level of artistry that they wowed me with back in the 1980s. I think these great Detroit classic models deserve to stand alone as "vehicles" for fine art (please excuse the pun). I loved the way they interpreted sheet metal and turned mundane scenes into timeless images. I also think the great tradition of Detroit illustration stands out for the breadth of the talent it produced and the range of skill and original artwork, much of which has dissappeared.
My car paintings are available as prints at fineartamerica.com at the following link.

http://fineartamerica.com/profiles/garth-glazier.html?tab=artworkgalleries&artworkgalleryid=409113
 
1929 AUBURN 8 120 BOAT-TAIL SPEEDSTER

I photographed a series of images of this 1929 Auburn Roadster. The hood ornament is so fun to render. They are already works of art so making them into paintings is a pleasure.
1952 HUDSON 2DR-Wasp Coupe

I am definitely leaning toward a little taste of Impressionism with a touch of Robert Hiendel and Bernie Fuchs I hope. I love creating a textured landscape with paint even if it is digital.
1967 PONTIAC GTO

I am continuing with my car paintings selecting images to work up as possible prints and posters. This shot was a challenge because of the way the car was wedged in between other vehicles. I like to use what is there as my source for a painted composition since it creates a certain uniqueness to each image. This Pontiac design was ahead of its time in 1967.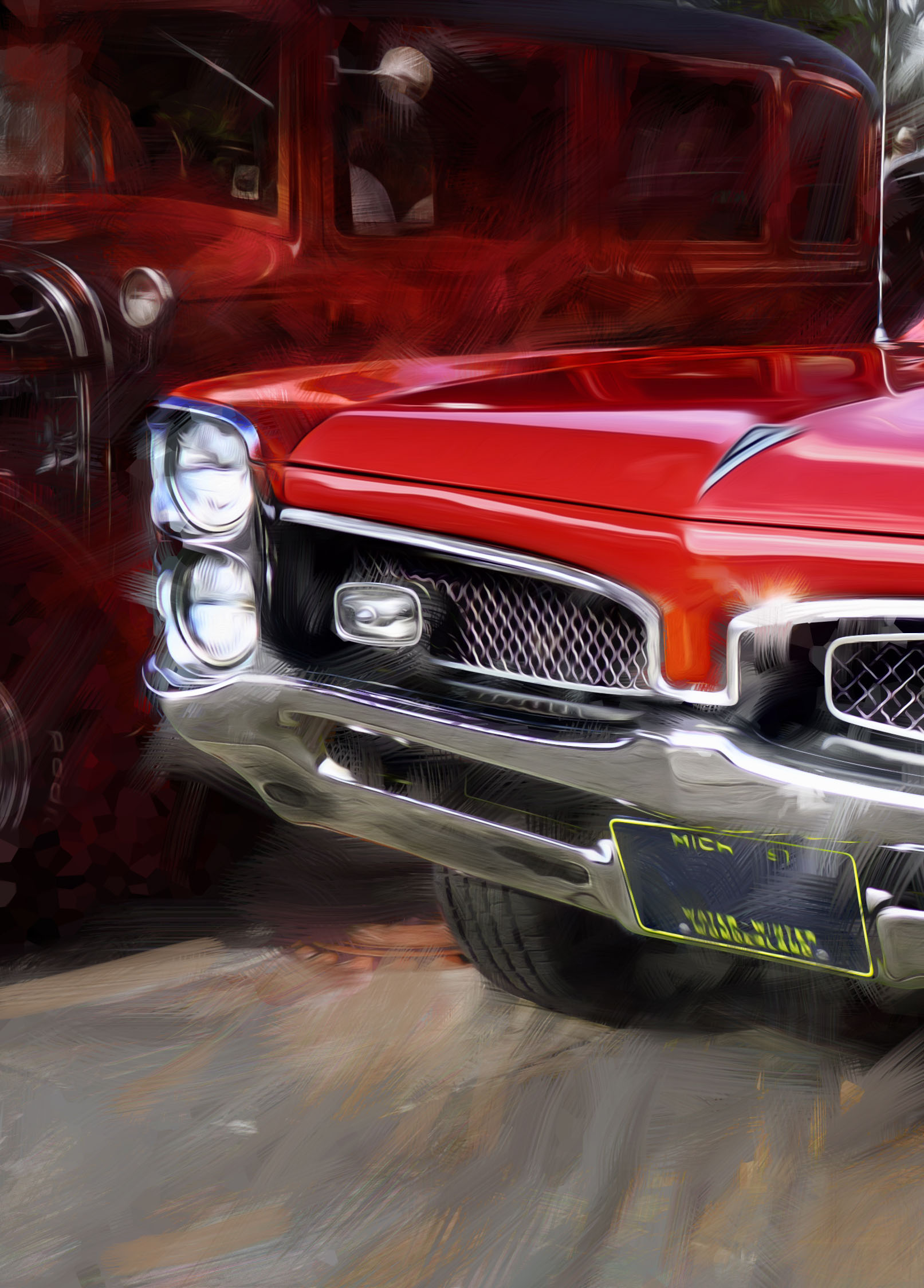 1971 BUICK RIVIERA REAR VIEW

My effort in creating a rough painted look to this view resulted in over 10 variations ranging from pure black and white sketched style art to monochromatic versions with spots of full color. This final version shows the Riviera in full color and the background muted to allow the vehicle's rear unique profile to stand out.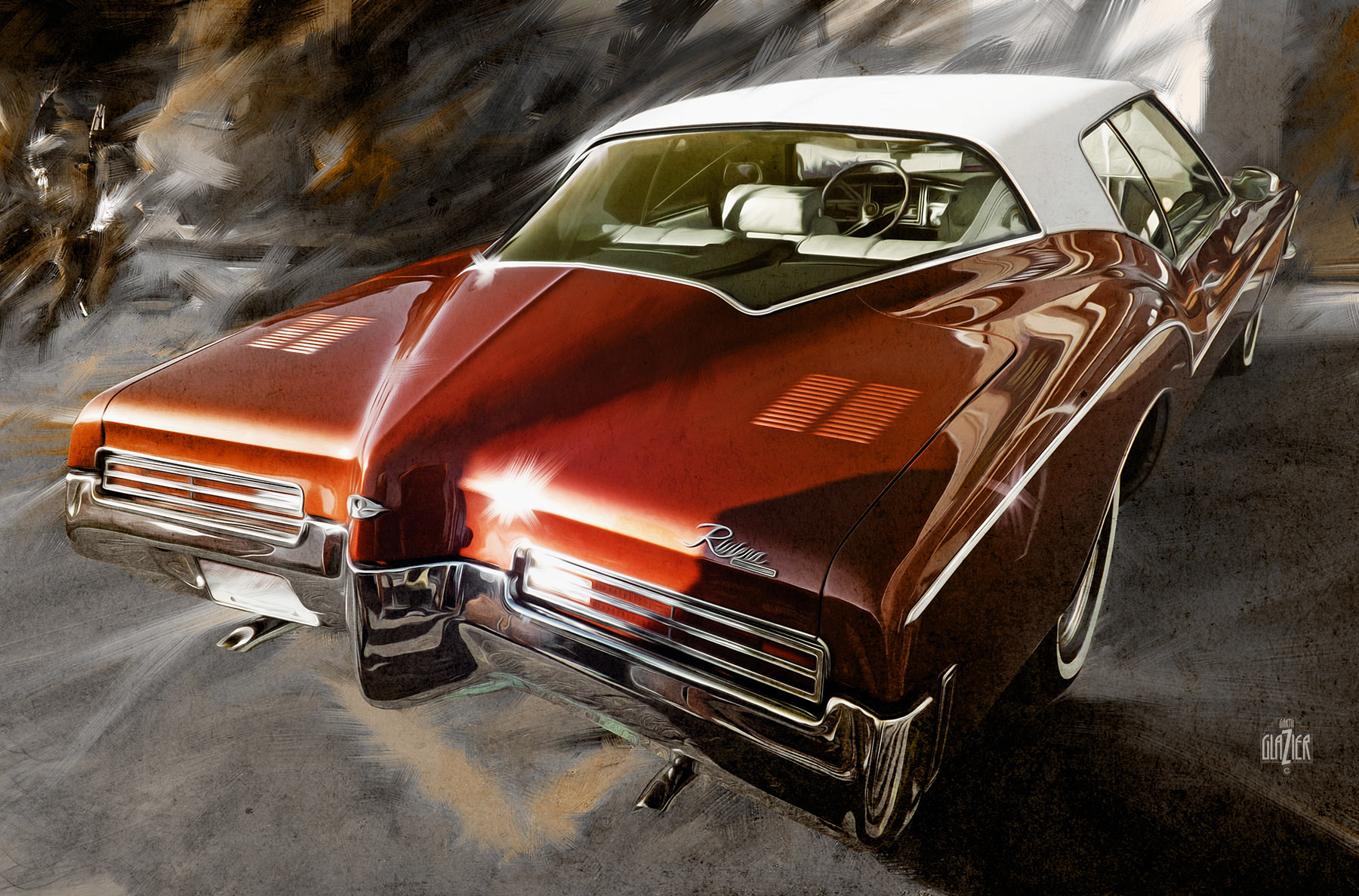 1965 PONTIAC TEMPEST GTO



This is the second painting in my American Muscle Cars series. I am exploring different levels of simplicity in the backgrounds. This painting is the first to include actual textures made by me with gesso and modeling paste.
1968 PONTIAC TEMPEST

This painting took 8 hours. The original shot on which this painting was based was taken at last year's Dream Cruise in the park at 13 Mile and Woodward. The late afternoon light made this Pontiac glow with greens andblues. The background was the bigger challenge. I added the the burst of light on the right and changed the color and light on the trees. This painting is more impressionist in feeling and has a lot more paint strokes to define the background-beginning to feel more like I am actually working with paint.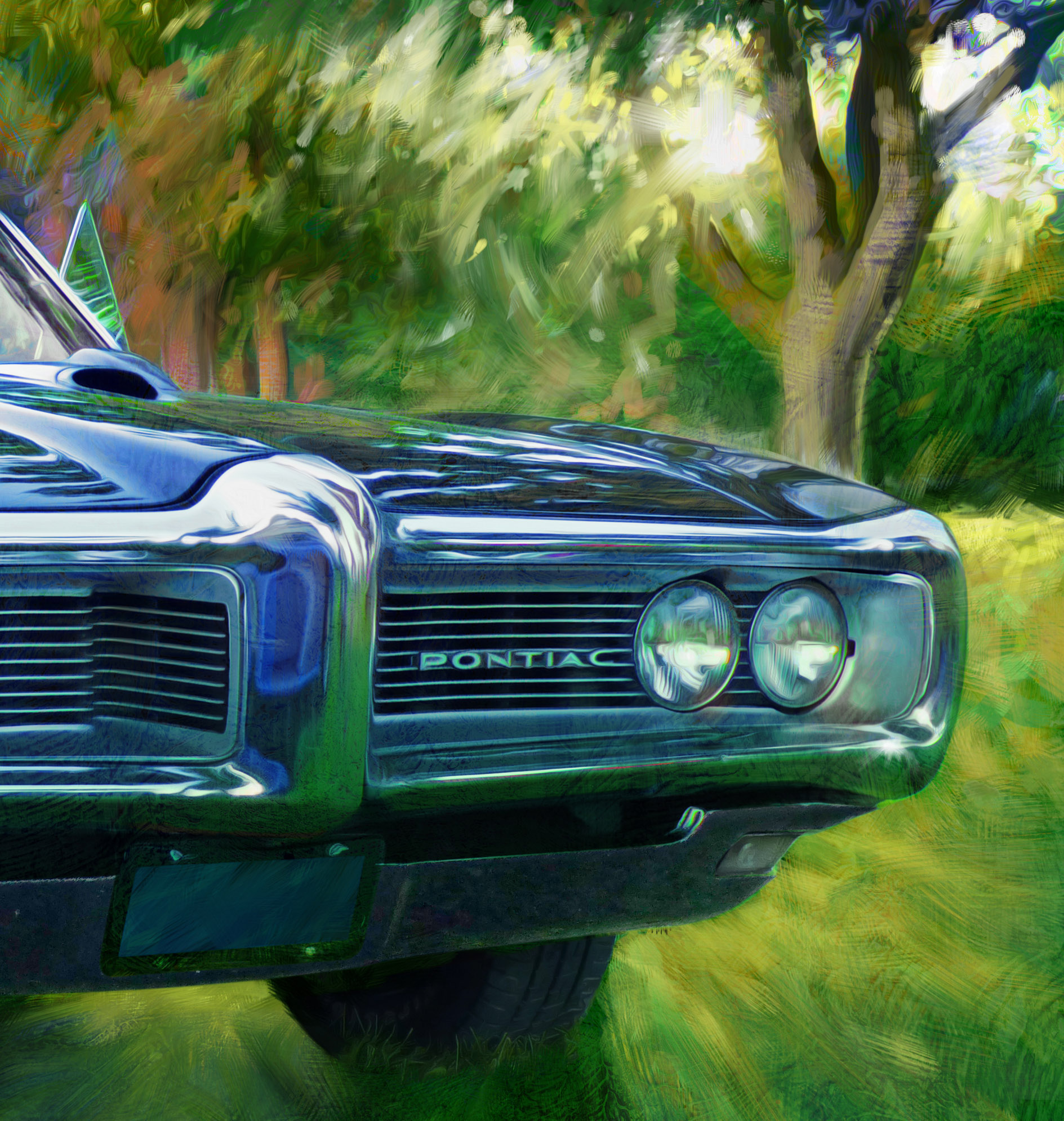 1971 BUICK RIVIERA

This Classic Riviera with the huge wing shaped rear bumper filled my camera's image area when I snapped a picture at the Woodward Dream Cruise. Detroit carmakers loved chrome, and so do I as a an artist today. I am working on paintings from several angles for this car. Amazingly, I almost passed it up as a subject but turned around and walked back to take a few pictures.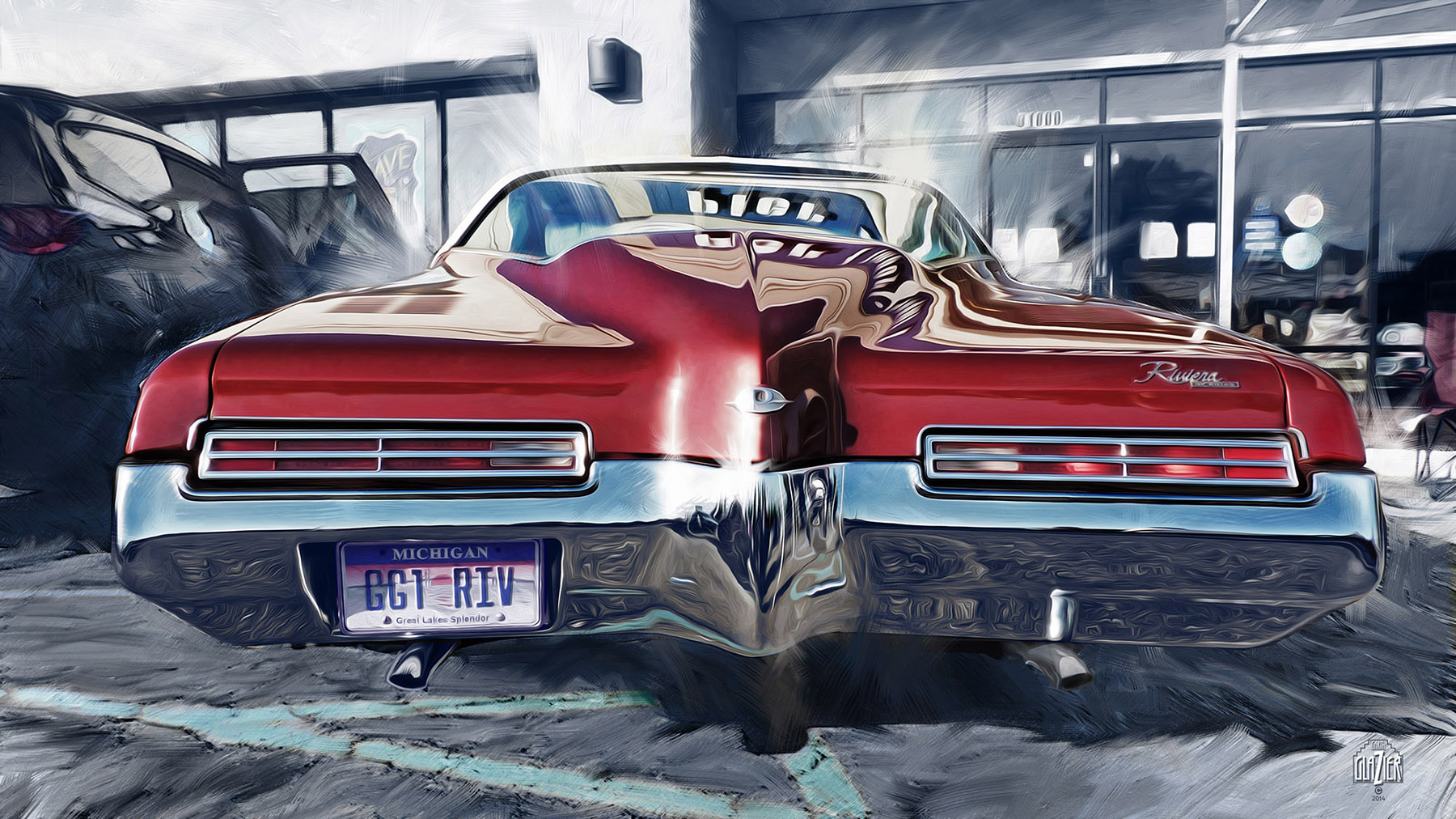 This painting emerged fron a photograph taken in late summmer on a hot dry sunny day in August. The brown of the grass and the deep green leaves of the oak trees framed this classic buick and gave the painted art a timeless look. 
I photographed this Buick Eight at the Concours d'Elegance in 2010. The original intent was to paint these in acrylic. I find that Photoshop has now evolved to the point where creating a painting with virtual brushes is becoming very exciting.
Never liked the new version of this car-seemed too plastic like a toy. The original still felt more real.